Top team recognized for innovative platform that empowers smallholder farmers in India
Mexico's peso has further to drop after taking a hit on the abrupt exit of Finance Minister Carlos Urzua, according to the currency's top forecaster.
While high carry has helped buoy the currency, economic reality will catch up — and Urzua's abrupt departure is just one more reminder of the risks that come with investing in Mexico, said Christian Lawrence, a rates and foreign exchange strategist at Rabobank in New York.
"It highlights the issues the market is worried about," including policy mistakes and fiscal slippage, said Lawrence, who forecasts the peso to end the year at 19.7 per dollar, a decline of 2.8% from where it is now. He was the best forecaster in the first and second quarter of this year.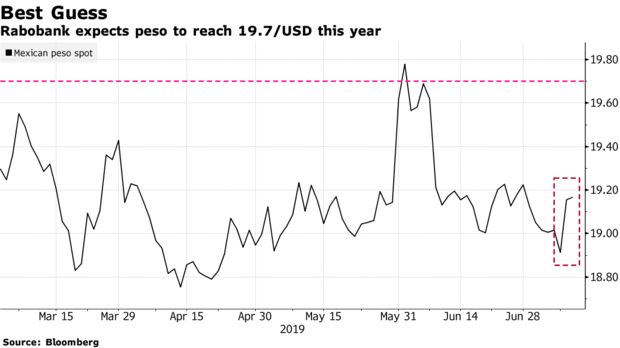 The peso plunged on Tuesday after Urzua quit and accused President Andres Manuel Lopez Obrador's administration of unsound decision making. Lopez Obrador quickly named Urzua's deputy, Arturo Herrera, as his replacement.
Lawrence expects the Mexican economy to expand by 1.2% this year, down from 2% in 2018, and remains concerned about fiscal slippage because Lopez Obrador's budget wasn't particularly pro-growth and a potential rescue plan for Petroleos Mexicanos, the state oil company, remains an issue. A slowing U.S. economy and the lack of ratification for a new U.S.-Mexico free trade agreement are also discouraging investment, he said.
"We'll see weakness as data continues to slow," he said in an interview. The peso will also see pressure as "fiscal slippage manifests itself plus the external environment sours somewhat."
A potential interest rate cut might also prove an obstacle for the peso. The central bank has steadfastly refused to lower rates from the highest since 2008, but that's likely to change in the fourth quarter amid pressure from a slowing economy, he said. A U.S. rate cut this month would also give Banxico room to cut.